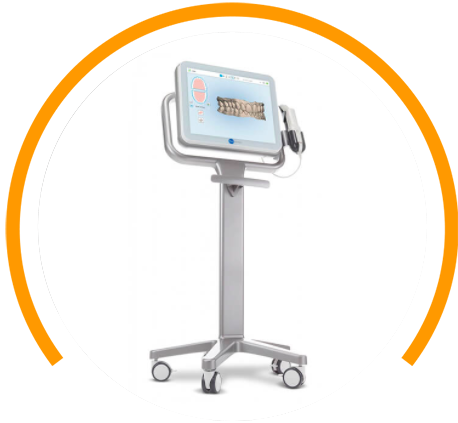 Digital 
Impressions
The iTero high-tech digital scanner allows Dr. Hashemi to take highly accurate digital impressions of your teeth and jaws without the need for goopy impressions. The iTero scanner accuracy improves the treatment plan and allows for a more positive patient experience. You will be able to see the 3D models of your teeth immediately, this will allow you to better understand your diagnosis and treatment plan.
How Does it Work?
The iTero scanner uses a radiation-free laser to capture the structure of your teeth, gums, and other structures in two-three minutes. The result is a digital 3D model of your entire mouth including teeth and soft tissue structures.
Benefits:
Comfort: 3-D scanning is more comfortable for patients than traditional goopy impressions.
Quality: The iTero captures highly accurate images that will result in a better fit for your appliance
Cost-effective: There is no additional cost for a digital impression.
4 Easy Steps to Get Started
Schedule Your Complimentary Consultation

You'll meet Dr. H and his friendly staff and have a chance to tell us what your smile goals are. Then we'll do a pain-free assessment of your current dental structures. Click HERE to schedule your complimentary consultation with Dr. Hashemi today.

Patient Forms

Complete our online forms prior to your first visit.

Your Custom Treatment Plan

Dr. H will create a customized treatment plan based on your or your child's needs, answering any questions you may have about timing, pricing, or life with braces.

Get Started

It's time to create the beautiful smile you have always wanted. If treatment is indicated, we can start the same day!