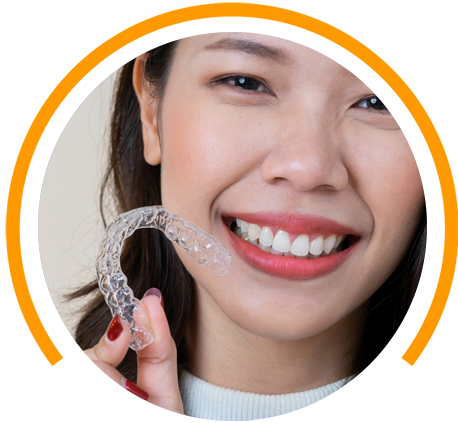 Invisalign
Children, teens, and adults all want to achieve a pearly-white straight smile. Crowding is one of the most common orthodontic issues among teens and adults. Crowded teeth make it difficult to keep your teeth at their optimum level of cleanliness and health. Invisalign can treat crowding and promote oral health to keep you smiling.
What is Invisalign?
Invisalign is a technologically advanced solution that allows you to straighten your teeth without the use of braces. Instead, Invisalign uses a series of clear removable aligners that are created specifically to fit your teeth. Invisalign aligners do not have any metal, elastic bands, or wires to promote the growth of plaque. The aligners are removable and allow you to continue brushing and flossing your teeth without learning any new techniques.
What Are the Benefits of Invisalign?
Invisalign is made to fit you and your lifestyle:
Clear, virtually invisible aligners
Removable, will not get in the way of your activities, oral hygiene (brushing/flossing), or food cravings
Increased comfortability compared to traditional braces
Lighter, gentler forces
No need for adjustments means fewer office visits
Progress to a new set of aligners every 1-2 weeks
Progress-checks with Dr. Hashemi every 8-12 weeks
How Long Will Treatment Take?
Every patient will respond differently to treatment and need different levels of correction, therefore treatment lengths will vary. However, treatment time in most cases is comparable to treatment with traditional braces. For some patients, Invisalign treatment is completed in less than a year!
Why See an Orthodontist?
Many general dentists are offering Invisalign treatments to their patients, most after enrolling in a brief weekend course from the provider. However, an orthodontist like Dr. Hashemi has received an additional 2-3 years of training after dental school and has passed the scrutiny of the National Specialty Board Examination. Orthodontists are qualified to evaluate and treat orthodontic cases with increased accuracy and offer a higher-quality outcome in less time than general dentists. Before committing to treatment, we recommend that you look for the seal of the American Association of Orthodontists to ensure that you are being treated by a certified orthodontist like you deserve.
Contact our office at (610) 624-4094 to schedule a complimentary consultation and determine if Invisalign is right for you!
4 Easy Steps to Get Started
Schedule Your Complimentary Consultation

You'll meet Dr. H and his friendly staff and have a chance to tell us what your smile goals are. Then we'll do a pain-free assessment of your current dental structures. Click HERE to schedule your complimentary consultation with Dr. Hashemi today.

Patient Forms

Complete our online forms prior to your first visit.

Your Custom Treatment Plan

Dr. H will create a customized treatment plan based on your or your child's needs, answering any questions you may have about timing, pricing, or life with braces.

Get Started

It's time to create the beautiful smile you have always wanted. If treatment is indicated, we can start the same day!