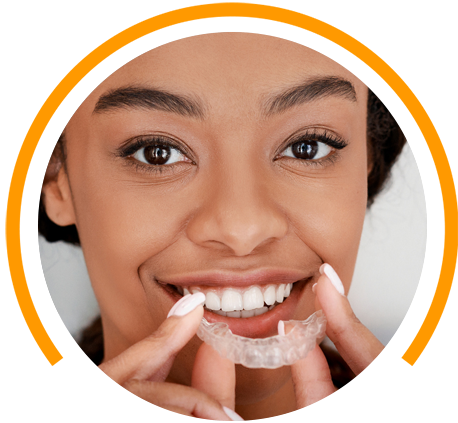 Retainer Care
After your orthodontic treatment is complete, you will need to wear retainers to ensure that your teeth do not revert to their original position. Below we'll review the recommendations for keeping your retainers clean and safe.
Cleaning Your Retainers
In the same fashion that your teeth need to be cleaned regularly, your retainers have the same requirement. A good rule to follow is to never place your retainers in their case or your mouth without properly cleaning them first.
You can eliminate bacteria and plaque buildup from your retainers by establishing and following a regular cleaning routine. This will help prevent the development of tooth decay and gum disease with the added benefit of keeping your breath fresh.
The best time to clean your retainers is as soon as you remove them from your mouth, in this moment, the plaque and debris have not hardened and will be easier to remove. Clean your retainers using a soft-bristle toothbrush and warm, soapy water. Be sure to fully rinse them before putting them back in your mouth or their case.
We do not recommend using toothpaste because it is an abrasive substance that can scratch your retainer and bacteria can live and multiply in these scratches.
Helpful Tips:
Keep your retainers safe by placing them in their case whenever you take them out of your mouth
Always carry a retainer case with you
Never wrap your retainers in a napkin – it's too easy to miss them and throw them away
Keep your retainers out of the reach of pets and small children
Avoid heat – your retainers can become deformed if they're left on or near a heater, hot stove, or in a hot car
Keep your retainers clean
If you have a problem with your retainers, call us right away. This includes damage or loss of your retainer.
4 Easy Steps to Get Started
Schedule Your Complimentary Consultation

You'll meet Dr. H and his friendly staff and have a chance to tell us what your smile goals are. Then we'll do a pain-free assessment of your current dental structures. Click HERE to schedule your complimentary consultation with Dr. Hashemi today.

Patient Forms

Complete our online forms prior to your first visit.

Your Custom Treatment Plan

Dr. H will create a customized treatment plan based on your or your child's needs, answering any questions you may have about timing, pricing, or life with braces.

Get Started

It's time to create the beautiful smile you have always wanted. If treatment is indicated, we can start the same day!