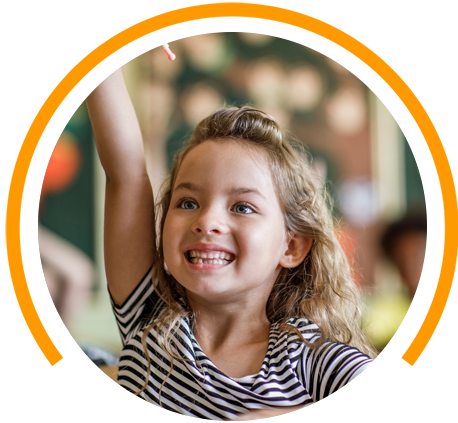 At What Age Should My Child See an Orthodontist?
The recommendation from the American Association of Orthodontics is to have your child evaluated by age seven. Having your child screened early in life will allow Dr. Hashemi to detect any orthodontic issues and treat them at the best time possible. Detecting any issues earlier will allow your child to receive the best treatment at the right moment and to avoid more invasive treatment later on.
What Causes Orthodontic Problems?
Orthodontic problems can be caused by genetics or acquired. Examples of genetic orthodontic issues include crowding of teeth, too much space between teeth, extra teeth, congenitally missing teeth, and discrepancies of the jaws, teeth, and face. Examples of acquired issues can be caused by trauma or bad habits including thumb sucking, airway obstruction by tonsils/adenoids, dental diseases, and premature loss of baby or adult teeth. These issues can negatively affect the alignment of the teeth, facial development, and overall appearance.
How Do I Know If My Child Needs Orthodontic Treatment?
It is difficult to determine if treatment is necessary just by looking at your child because many problems can exist while the front teeth look perfectly aligned. Meanwhile, other problems appear intimidating and complex but will likely resolve on their own. The only way to know for sure is to visit an orthodontist for early screening. Schedule your child's initial consultation today to receive a comprehensive evaluation and receive the next steps which may range from just monitoring to beginning treatment shortly.
What Are the Early Signs of Orthodontic Problems?
While an orthodontist is the only person who can tell you for sure if your child needs orthodontic treatment, some signs indicate that your child may have issues that require treatment. These signs include crowded or overlapping teeth, gaps between the teeth, front top teeth not lining up with the bottom teeth, top front teeth not meeting with bottom teeth, and top front teeth covering more than 50% of the bottom teeth. Any misalignment or shifting of the jaw indicates a possible skeletal problem. These signs include only the most obvious symptoms of orthodontic problems.
Can Adults Have Braces?
Of course! Age is not a limiting factor when considering eligibility for orthodontic treatment. To be an ideal candidate for orthodontic treatment, you should be in good general health, have healthy gums, and good bone structure. Today, 1 out of every 4 orthodontic patients is an adult and the number is always on the rise.
Can anyone wear Invisalign?
Invisalign is typically reserved for a range of orthodontic issues that are considered low complexity. Dr. Hashemi will recommend the best treatment options for your case, be sure to ask him if Invisalign is right for you!
Is Orthodontic Treatment Painful?
Braces do cause some mild discomfort including tenderness and soreness for a few days after your placement or adjustment visit. However, braces are not considered painful. You can take an over-the-counter pain reliever such as Tylenol or Advil if needed. At Altera Orthodontics, we offer you the latest advances in biocompatible braces that increase comfort while reducing treatment time.
What Is Phase I (Interceptive) Treatment?
Phase I is also known as Interceptive treatment and usually takes place while a child has a combination of baby teeth and permanent teeth. This usually happens between the ages of seven and nine. Phase I treatment serves to treat moderate or severe orthodontic problems early enough to reduce them or eliminate them completely with the least invasive treatment options available. The most common problems eligible for phase I treatment include skeletal discrepancies, crossbites, and severe crowding.
Phase I treatment transforms a complicated orthodontic problem into a manageable one. Phase I treatment reduces the need for extractions and surgery. Most patients who undergo Phase I treatment will still require Phase II treatment to completely correct their smile.
Does Everyone Need A Phase I Treatment?
No, only some children are eligible for Phase I treatment. To determine if your child could benefit from Phase I treatment, schedule their initial consultation by age seven.
What Is the Duration of Orthodontic Treatment?
Most patients complete their treatment in a range of 6 to 30 months. In some rare cases, the treatment may be longer. The treatment period is defined by a variety of factors including the stage of development, the complexity of the problem, the commitment of the patient, and the amount of correction that is required.
Is Orthodontic Care Expensive?
The earlier you receive a diagnosis and begin treating any existing issues, the less your treatment will cost. Orthodontic problems become more difficult and complex to treat once they are combined with other issues such as dental decay. Orthodontic fees have remained stable compared to other consumer products. Financing and flexible payment options are available and we also accept a variety of orthodontic insurance plans.
4 Easy Steps to Get Started
Schedule Your Complimentary Consultation

You'll meet Dr. H and his friendly staff and have a chance to tell us what your smile goals are. Then we'll do a pain-free assessment of your current dental structures. Click HERE to schedule your complimentary consultation with Dr. Hashemi today.

Patient Forms

Complete our online forms prior to your first visit.

Your Custom Treatment Plan

Dr. H will create a customized treatment plan based on your or your child's needs, answering any questions you may have about timing, pricing, or life with braces.

Get Started

It's time to create the beautiful smile you have always wanted. If treatment is indicated, we can start the same day!