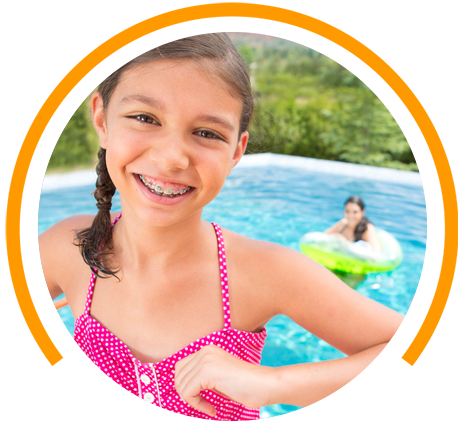 Two-Phase

Orthodontics
Two-phase orthodontic treatment is a process that considers a young patient's jaw and facial development in addition to tooth straightening. Two-phase treatment serves to maximize the opportunity to achieve an optimal result balancing health, functionality, aesthetics, and result longevity. Two-phase treatment at the right time may eliminate the need for adult tooth extractions and jaw surgery.
Two-phase treatment is also known as interceptive care because it requires intercepting before a problem gets more serious. Phase one of treatment takes place when the patient is still developing and has a mix of baby and adult teeth. The goal of phase one treatment is to shift teeth, manipulate growth, create the appropriate space for unerupted teeth, break bad habits, and prevent trauma. This treatment usually begins between the ages of 7 and 10. Once treatment begins, the child's development is monitored to determine the best time to begin the second phase of treatment. Most children will need to undergo a second phase of treatment to achieve the best results. Once the second phase of treatment is completed, retainers are prescribed to keep the teeth in the correct position long enough for the roots to settle in the correct place.
4 Easy Steps to Get Started
Schedule Your Complimentary Consultation

You'll meet Dr. H and his friendly staff and have a chance to tell us what your smile goals are. Then we'll do a pain-free assessment of your current dental structures. Click HERE to schedule your complimentary consultation with Dr. Hashemi today.

Patient Forms

Complete our online forms prior to your first visit.

Your Custom Treatment Plan

Dr. H will create a customized treatment plan based on your or your child's needs, answering any questions you may have about timing, pricing, or life with braces.

Get Started

It's time to create the beautiful smile you have always wanted. If treatment is indicated, we can start the same day!