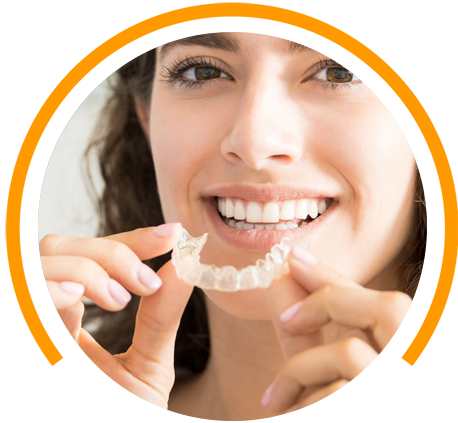 Retainers
Once you complete your treatment, you're not quite done with us. Our goal at Altera Orthodontics is to give you a smile that will last forever. Making your new and improved smile last forever will involve an appliance called a retainer. Wearing a retainer after your teeth have been aligned is necessary to allow the bone and soft tissues surrounding the teeth to stabilize. If you do not wear your retainer as prescribed, you risk the possibility of your teeth reverting to their original position.
When you start to wear your retainers, they will take some getting used to. The retainers may feel bulky in your mouth and your speech may be altered with a slight lisp. Don't worry, all of this is normal and should only last for a few days. The roof of your mouth may feel a bit tender after beginning to wear your retainer, this should only last for 2-3 days.
Most retainers are made of a pliable material, you should keep your retainers away from high temperatures above 115 degrees. Keep your retainer away from heaters, dishwashers, and car dashboards just to mention a few unfriendly places. Clean your retainer after every meal and before going to bed using a soft toothbrush and warm soapy water. Be careful not to bend any of the wires. Before you re-insert the retainer in your mouth, be sure to brush your teeth to avoid trapping any food under your retainer.
Remember to use and care for your retainer correctly. If you're not wearing it put it in its case to avoid it ending up in the trash by accident. Wear your retainer daily while sleeping, this will be the best way to keep the smile you've worked so hard for.
4 Easy Steps to Get Started
Schedule Your Complimentary Consultation

You'll meet Dr. H and his friendly staff and have a chance to tell us what your smile goals are. Then we'll do a pain-free assessment of your current dental structures. Click HERE to schedule your complimentary consultation with Dr. Hashemi today.

Patient Forms

Complete our online forms prior to your first visit.

Your Custom Treatment Plan

Dr. H will create a customized treatment plan based on your or your child's needs, answering any questions you may have about timing, pricing, or life with braces.

Get Started

It's time to create the beautiful smile you have always wanted. If treatment is indicated, we can start the same day!