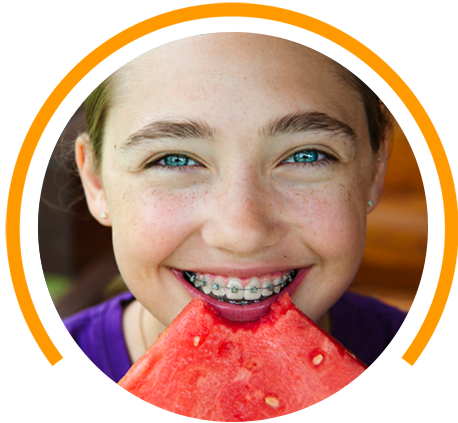 Eating with Braces
At Altera Orthodontics, we want to make your orthodontic treatment experience a positive one. To avoid damage to your appliance and to reduce any potential side effects of poor diet. Certain foods are known to be high risk for appliance damage and to increase the risk of dental decay. Remember that healthy teeth move best!
Potential Harm to Your Teeth and Gums
Foods and drinks that have been linked to dental caries or cavities should be minimized while wearing braces. You should also avoid sticky food because it can damage your appliance and increase your risk of dental decay. If you do consume any sugary foods or drinks, have them with your regular meal at one time of the day, not multiple times during the day. Immediately after your meals, brush your teeth and use an antiseptic rinse. Limit your snacks to foods that do not contain refined sugar and once again brush and rinse after snacking.
Potential Harm to Your Braces
Braces are designed to be worn while eating but the braces come off and the wires can bend or break with the force of certain foods.
Foods that may be appealing, but are high risk during orthodontic treatment:
Chewing ice will cause severe damage to your braces.
Sticky food or candy of any kind (taffy, caramels, Tootsie Rolls, Gummy Bears, Now and Laters) are dangerous because they bend wires and loosen the bonding material.
Hard food or candy of any kind (Jolly Ranchers, pizza crust, hard pretzels, beef jerky, Doritos, Fritos, corn, raw carrots, nuts) pose a high risk of bending wires, loosening the bonding material under the bands, and even breaking brackets and tubes
Foods high in sugar content (cake, cookies, ice cream) should be avoided as much as possible. If you do consume foods high in sugar content, be sure to brush your teeth immediately. If it is not possible to brush, then always rinse your mouth with clear water after eating sweet foods to prevent tooth decay.
Remember that if you have any questions about what foods you should be eating and which ones can be harmful, you can call our office and we'll be happy to provide guidance.
4 Easy Steps to Get Started
Schedule Your Complimentary Consultation

You'll meet Dr. H and his friendly staff and have a chance to tell us what your smile goals are. Then we'll do a pain-free assessment of your current dental structures. Click HERE to schedule your complimentary consultation with Dr. Hashemi today.

Patient Forms

Complete our online forms prior to your first visit.

Your Custom Treatment Plan

Dr. H will create a customized treatment plan based on your or your child's needs, answering any questions you may have about timing, pricing, or life with braces.

Get Started

It's time to create the beautiful smile you have always wanted. If treatment is indicated, we can start the same day!