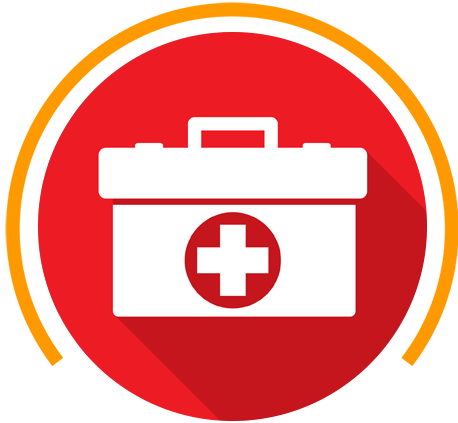 Emergency Care
Even if you take all of the necessary precautions, it is still possible to accidentally damage your appliances. We want to provide a guide to solve any potential issues temporarily until you can come into the office for a permanent repair.
Loose band or bracket – If you have a band or bracket come loose from the tooth, call our office to make schedule the repair. A loose band or bracket is dangerous because it exposes your tooth to decay. If the band or bracket is still attached to a wire, leave where it is, applying wax to reduce any discomfort. If the band or bracket completely comes out, put it in an envelope and bring it to your repair appointment.
Broken archwire – If an archwire breaks call our office and mention that you need an emergency appointment.
Loose wire – Attempt to place the wire back in its tube, then, place wax over it to alleviate any friction. Call to schedule a repair appointment.
Poking Wire – Sometimes a poking wire can be safely turned down so that it no longer causes you discomfort. Try to tuck the wire back in and out of the way with the blunt end of a toothbrush, or some other smooth object. If you are unable to take care of a poking wire, apply wax and call our office for an appointment.
Soreness – Soreness during treatment is to be expected. Warm salt-water rinses and over-the-counter pain relievers help resolve this issue.
Accidents involving teeth – Contact our office immediately, or contact your general dentist.
Please remember: If you play contact sports, we recommend using a regular mouthguard over your braces for added protection.
4 Easy Steps to Get Started
Schedule Your Complimentary Consultation

You'll meet Dr. H and his friendly staff and have a chance to tell us what your smile goals are. Then we'll do a pain-free assessment of your current dental structures. Click HERE to schedule your complimentary consultation with Dr. Hashemi today.

Patient Forms

Complete our online forms prior to your first visit.

Your Custom Treatment Plan

Dr. H will create a customized treatment plan based on your or your child's needs, answering any questions you may have about timing, pricing, or life with braces.

Get Started

It's time to create the beautiful smile you have always wanted. If treatment is indicated, we can start the same day!