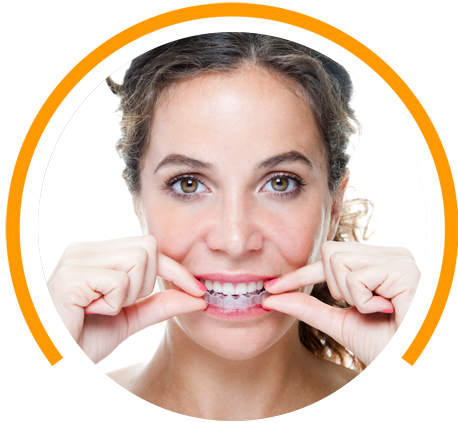 Why 
Invisalign
Undergoing treatment is a process that will reward you with a beautiful smile in the end. But what happens during treatment? Invisalign will integrate seamlessly into your lifestyle while improving your smile and overall dental health.
Invisalign is a highly innovative option to undergo orthodontic treatment without making any major lifestyle changes. Invisalign has treatment options for children, teens, and adults. The clear aligners are smooth, comfortable, and best of all removable. You will be able to continue doing all the things you love including eating your favorite snacks, playing musical instruments, and participating in sports.
Invisalign is capable of treating a variety of cases with high levels of accuracy and efficiency. Conditions that are eligible for treatment with Invisalign include crowding, spacing, crossbite, overbite, and underbite. Regardless of your age, you can take advantage of the opportunity to beautify your smile without braces. Schedule your complimentary consultation today to find out if Invisalign is right for you!
4 Easy Steps to Get Started
Schedule Your Complimentary Consultation

You'll meet Dr. H and his friendly staff and have a chance to tell us what your smile goals are. Then we'll do a pain-free assessment of your current dental structures. Click HERE to schedule your complimentary consultation with Dr. Hashemi today.

Patient Forms

Complete our online forms prior to your first visit.

Your Custom Treatment Plan

Dr. H will create a customized treatment plan based on your or your child's needs, answering any questions you may have about timing, pricing, or life with braces.

Get Started

It's time to create the beautiful smile you have always wanted. If treatment is indicated, we can start the same day!