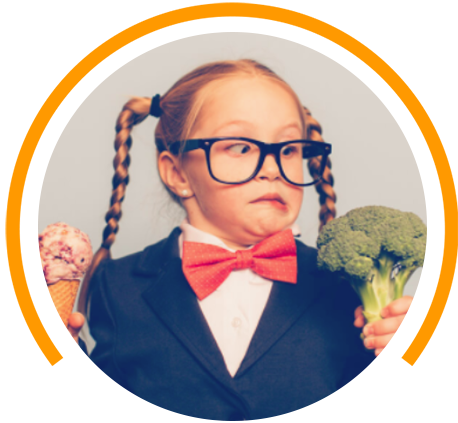 Foods
 to Avoid
Sugary and starchy foods cause the bacteria in your mouth to generate acids that deteriorate the teeth. Plaque buildup leads to irritated, red, and tender gums that are prone to bleeding. Irritated gums pull away from the teeth, forming pockets that will then be filled with bacteria. If the gums are not treated, the bone around the teeth can become worn down and the teeth will then become loose or have to be extracted. Gum disease is the leading cause of tooth loss in adults.
To get the best results from your orthodontic treatment, we recommend avoiding hard foods, sticky foods, and foods with high sugar content. You should also avoid bad habits such as nail-biting, pencil/pen chewing, and chewing on any foreign objects.
Examples of Sticky Foods to Avoid:
Gum (sugar-free or regular)
Licorice
Sugar Daddies
Toffee
Tootsie Rolls
Caramels
Starburst
Examples of Hard Foods to Avoid:
Ice
Nuts
Hard taco shells
French bread crust/rolls
Corn on the cob
Apples and carrots (unless cut into small pieces)
Bagels
Chips
Jolly Ranchers
Pizza crust
Uncooked carrots (unless cut)
Minimize Sugary Foods like:
Cake
Ice Cream
Cookies
Pie
Candy
Check your braces for damaged, bent, or lose wires and brackets. If you find anything that needs repair, call us immediately to arrange an appointment.
4 Easy Steps to Get Started
Schedule Your Complimentary Consultation

You'll meet Dr. H and his friendly staff and have a chance to tell us what your smile goals are. Then we'll do a pain-free assessment of your current dental structures. Click HERE to schedule your complimentary consultation with Dr. Hashemi today.

Patient Forms

Complete our online forms prior to your first visit.

Your Custom Treatment Plan

Dr. H will create a customized treatment plan based on your or your child's needs, answering any questions you may have about timing, pricing, or life with braces.

Get Started

It's time to create the beautiful smile you have always wanted. If treatment is indicated, we can start the same day!