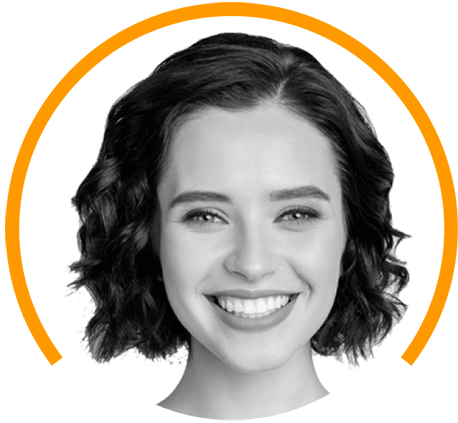 Integrated Smile Design
Straight teeth: Crowded teeth create hard-to-clean areas that can compromise oral health. We ensure that your teeth are properly aligned with each other and with the jaws.
Optimal Lip Support: As we age, our nose and chin continue to grow, while the lips lose their tonicity, giving us a more "dished in" appearance over time. We ensure adequate lip support by properly positioning and angling your front teeth, resulting in a more youthful appearance for years to come.
Proper Root Position: We strive to achieve proper root position by the end of treatment, resulting in healthy long-term function and stability.
Functional Bite: When the upper and lower teeth don't fit together properly, it can cause unfavorable consequences such as uneven tooth wear, periodontal compromise, and inability to chew food properly. We ensure your final tooth position supports the most optimal bite, giving you proper, sustainable function.
Smile Arc: One of the definite attributes of an attractive smile is a smile line that follows the contour of the bottom lip. We ensure that your top teeth are positioned to create that attractive smile that gets noticed.
Balanced Profile: We strive to create balance between your upper and lower jaws and their relationship to the rest of your face; this will help to achieve your ideal profile. Orthodontic treatment can often provide an alternative to surgery.
Smile Width: A broad, wide smile makes you appear more youthful and provides facial support while you age. We ensure the width of your dental arches fits the proportions of your face, creating a broad and beautiful smile.
4 Easy Steps to Get Started
Schedule Your Complimentary Consultation

You'll meet Dr. H and his friendly staff and have a chance to tell us what your smile goals are. Then we'll do a pain-free assessment of your current dental structures. Click HERE to schedule your complimentary consultation with Dr. Hashemi today.

Patient Forms

Complete our online forms prior to your first visit.

Your Custom Treatment Plan

Dr. H will create a customized treatment plan based on your or your child's needs, answering any questions you may have about timing, pricing, or life with braces.

Get Started

It's time to create the beautiful smile you have always wanted. If treatment is indicated, we can start the same day!